7 Personalized Pet Loss Gifts
The loss of your furry best friend can be devastating. For so many people, a pet is not only a friend, they also become family. So, if you know someone in your life who has lost their pet recently, you might be looking for a way to honor their love for their pet. We have put together a list of our favorite seven personalized pet loss gifts that will help memorialize their beloved pet in a beautiful way.
But before we get started with our favorite pet loss support gifts, we wanted to share a few ideas on how to support someone who is grieving a dog or a cat. Be sure to listen to them talk about their pet, check in with their emotions, send them a shared photo of their pet from your phone, text to check in and let them know you remember them, or send them a meaningful gift! This video below sums it up super well. 
Pet Memorial Garden Kit
One of my favorite pet loss gifts is a personalized pet memorial garden kit with everything your friend would need to plant a memorial garden in honor of their beloved pet. If your friend used to love spending time with their dog in the backyard or another special spot near their home, they can set aside a small outdoor area where they can sit, reflect, and remember spending time with their pet. 
This custom butterfly garden seed set is a beautiful dog memorial gift! Each set is customized with the pet's name and includes enough seeds to cover 15-20 square feet. These seeds are filled with native wildflowers, garden flowers, and milkweeds that will attract adult butterflies. It is a super special and sweet way to plant a garden in memory of a beloved dog. 
It makes the perfect pairing with this sweetest little garden stone. The stone says "Best friends come into our lives and leave prints on our hearts" and even has the two cutest little paw prints printed on it. It is safe for outdoor use, and makes a super adorable (and affordable!) gift for a friend.
We also offer these memorial garden gifts in a curated gift box, which just makes it super easy to click a button and send your friend a really meaningful gift. 
If you would rather send a customized garden stone to your friend, you can always shop on Etsy for a stone with the pet's name and a set of pawprints. This shop has a sweet option if you would like to go that route, but you can find so many other options available.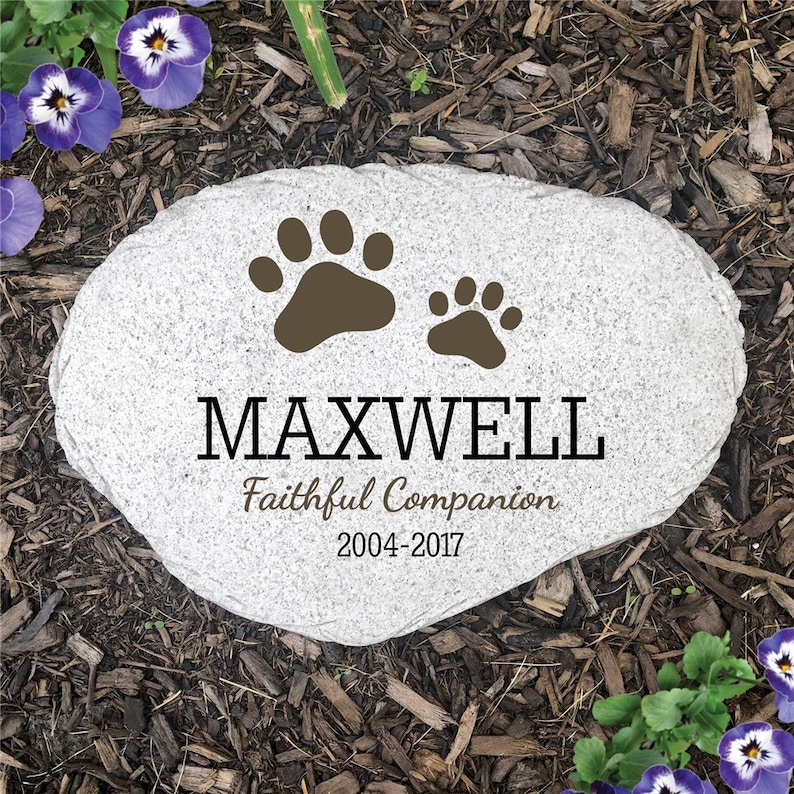 Jewelry
The loss of a pet can actually be a uniquely isolating experience. Many times the person who is the pet's primary caregiver has many shared memories with the pet that are unique to the two of them. Because there might not be other individuals who had a close relationship with the pet, the pet owner might feel lonely and isolated in their experience of grief. 
If you think your friend might be experiencing these feelings, a piece of pet loss memorial jewelry is a super sweet option for them. A piece of pet remembrance jewelry in honor of a dog or cat is something that helps the pet's owner feel their presence, and it is something they can wear always. 
There are personalized options with a pet pawprint and the pet's name, like this one below from laurelbox. 
Or, you can find a beautiful personalized pet locket where you can insert their pet's photograph into the locket and create a beautiful keepsake. This one from Kindred Row is adorable and so meaningful!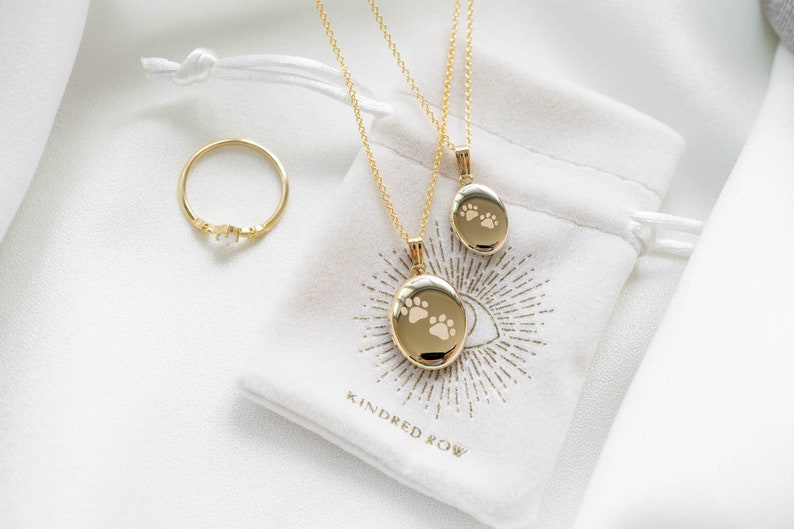 Keepsake Gift Set 
A keepsake gift set to keep the pet's memory alive in the home is another super special gift to send to a friend who is grieving a dog or cat. After a pet dies, their collar becomes a treasure for their owner. If your friend has lost a dog or cat, this shadowbox to display the pet's picture and collar would be a perfect personalized pet memorial gift.
Another incredibly special pet keepsake gift is a rose gold holiday ornament and matching candle. These ornaments are custom engraved with the pet's name, and make a personalized keepsake that can be treasured for years to come! 
Personalized Wind Chime
Wind chimes are one of the best gifts you can give someone who has lost a pet. They can hang them outdoors near the garden or where they used to play outdoors with their dog and think of them when the wind makes the chimes ring. You can even engrave the wind chime with their pet's name for a super special custom gift. Every time they hear it, they will think of their pet!

Stepping Stone
A pet stepping stone is another really special pet loss condolence gift. While you are shopping for a stepping stone, it can be special to include the pet's name and birthday. The options available online at Chewy have affordable personalized options that are designed just for people grieving a pet. 
If your friend's have kids and a family, I really like the idea of gifting them a DIY stepping stone kit that they can all do together as an activity in memory of their dog or cat. This gives them the option to customize it with special colors, phrases, or words that would be meaningful to the family. This option below is a great choice! 
Pet Pillow
Gifts for the home are meaningful for those who are mourning a furry friend. There are commemorative pillows available that are customized with the pet's photograph. If your friend spent time together with their pet snuggling on the couch or in bed, a special pet plush pillow from Petsies would be the perfect choice. Their pillows are printed with a photograph of the pet and in the shape of the pet, making the pillow a super comforting sympathy gift! There is something special about displaying a photograph of your pet in the home to look at it every day. 
Dog Face Hoodie
Lastly, you can give your friend a sketch or photo of their pet onto a hoodie or tshirt so that they can wear the sweatshirt every time they miss their furry friend. Hoodies are a cozy piece of comfort clothing, and it is normal to want to snuggle up in a hoodie when you are in grief, making this a doubly special gift. The understated and stylish look of these custom embroidered sweatshirts makes them one of my favorite pet memorial gifts on the list. It definitely will be a unique support gift, and it will show how much you care! 
We hope this list helps as you work to support a friend by sending personalized pet loss gifts! 
---