customized boxes to nourish the soul after loss
When His Story is More than We Imagine
by Courtney Ellis  
Courtney Ellis is a wife and mama to 2 living in St. Petersburg, FL. She has been married to her husband Adam for 10 years and they are the proud parents to Layla (3) and Kai (7 months). She works as a Licensed Mental Health Counselor.
---
I can't remember which celebrity it was or what day it was or even where I was, but I do remember walking by a TV and overhearing a quote that forever shifted my journey to motherhood. The celebrity said something along the lines of:
"And one day I realized — I didn't need to become pregnant to be a mother. I just wanted to be a mother. Period. Pregnancy wasn't the goal, motherhood was."
I stopped in my tracks, mind blown. My heart started beating and I held my breath, paralyzed by possibility. Because this unexpected moment became the first of many moments where I considered, "Wait — what if pregnancy isn't how I become a mother? What if adoption is what God has purposed all along?" It changed everything.
But I'm getting ahead of myself.
Because prior to that, I was a hot mess of a human. Crying secretly in the bathroom during a baby shower? Yep, that was me. Crying at the grocery store after walking by what seemed to be the 20th glowing pregnant woman? Yep, me again. Crying after a friend posted a beautiful pregnancy announcement on Facebook? Me. Shamefully me. (Ultrasound pictures on social media are, to this day, quite triggering for me.) Lots of crying. Lots of questions. Lots of resentment.
You see, infertility rocked my world. Because, plainly … I didn't see it coming. My sister had struggled with infertility so for some reason, I felt like I would be exempt. Plus all those years of heavy and painful periods seemed like a sure sign of fertility to me! (If only someone had shared with me that those were instead signs of endometriosis.) I thought I would get pregnant in a snap. So when month after month went by with nothing to show for it but negative pregnancy tests, a miscarriage, an ectopic pregnancy, and plenty of sad doctor faces, I began to sink into a deep hole of fear, doubt, and self-pity.
At that point, I truly could not envision myself becoming a mother. I worried that it was my fault — maybe I didn't have enough faith, maybe my stress over infertility was causing infertility, or maybe I was being punished for something. It was a mess. I was a mess.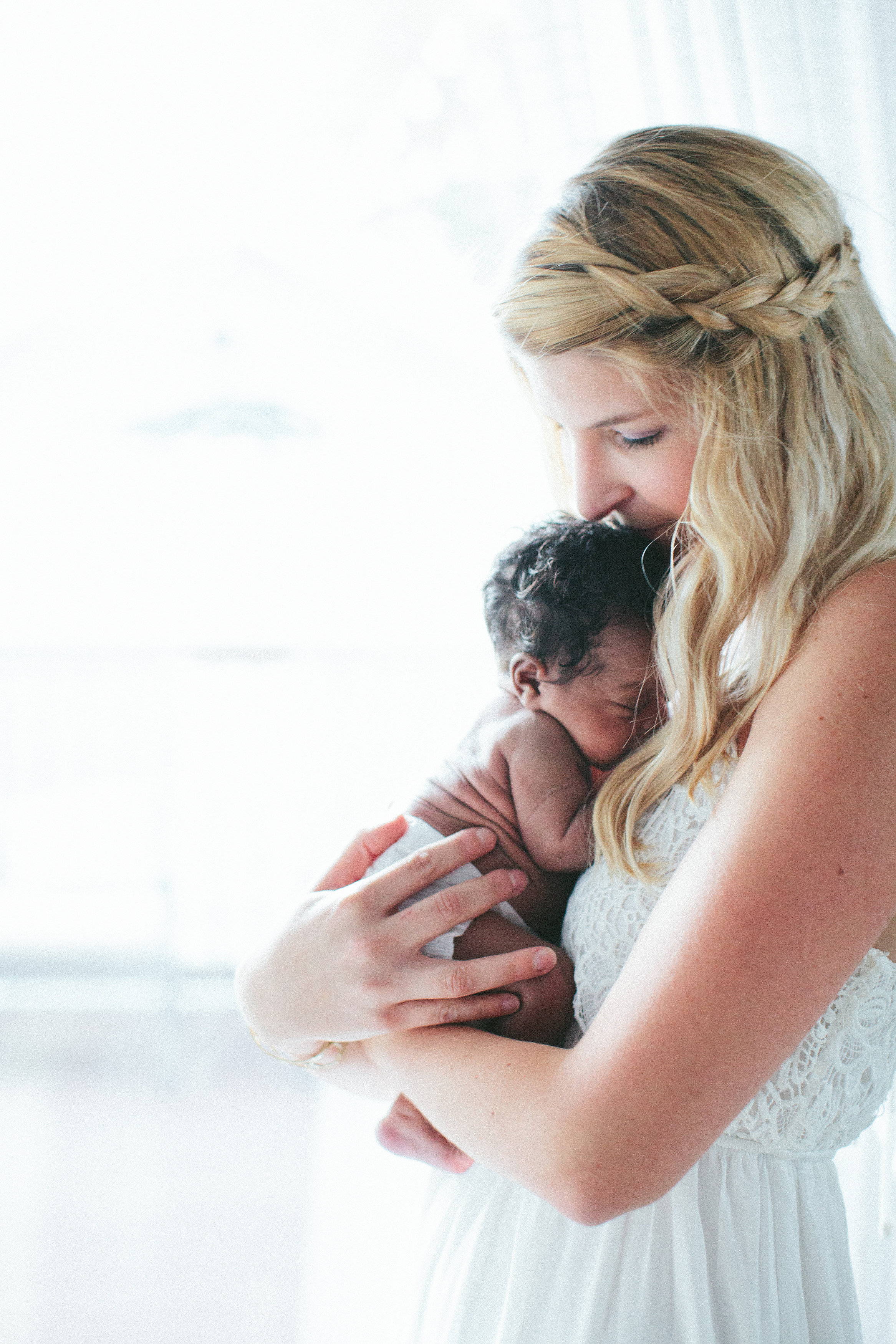 So two years later, on that scary, beautiful day that my husband and I decided to pursue adoption, I felt relief. I could finally stop trying to control things that were outside of my control. I felt free from tracking cycles, taking temperatures, and noticing every meaningless little twinge or cramp. I felt like the floodgates had opened and for the first time in years, things started falling into place.
And here I sit, almost 6 years later, with a grateful heart. I am blessed to be the mother to the two greatest children (I'm not biased) who make my heart want to burst on a daily basis. I still have to pinch myself that I have the privilege of being their mom.
In hindsight, I can oddly look back at those years of hardship and say that I thank God for infertility. I thank Him because His story was so much more than I could have ever imagined. I thank Him that He never gave into my begging, that He continued to say no when I wanted a yes, because He knew the end of the story. He knew that adoption was our journey, our Plan A, and that it would be a journey that would forever change us. He knew that these two children would one day bring us more joy than we ever thought possible. He knew.
Adoption was not an easy journey for us. It was wrought with waiting and uncertainty and disappointment and unmet hopes. It was painful and hard and confusing at times. But oh, was it beautiful. But oh, was it worth it. Because in so many ways, adoption reminded me to not put God in a box.
Family and motherhood mean so much more than our conventional definitions. Adoption is shared motherhood — two women coming together in their own hardship to give a child life. For me to become a mom, another mom had to experience one of the most painful experiences in her life. For me to gain my greatest desire, she walked through immense loss.
We have open adoptions with both of our children's birth mothers — and it is a mixture of joy and pain as we walk through life together. But it pushes me to remember that being a mother means many things. It is biology, but it is also nurturing. It is the early moments, but it is also every day thereafter. I share motherhood with these women — and in that way I am challenged to be more selfless, more compassionate, and more generous with my children. God brought beauty from our ashes. He brought good from our pain. Because the pain of not being able to create life — and the pain of not being able to care for a life — became my beautifully broken story of motherhood.